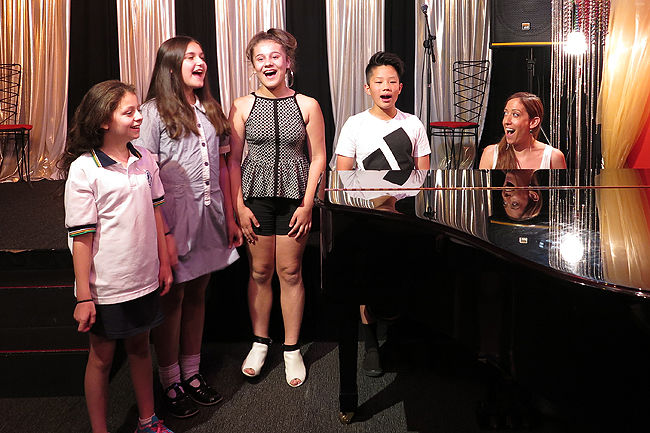 The promise
Christine Kounnas has run CK Singing School in Lower Templestowe for seven years and it boasts five experienced vocal coaches. Students perform at concerts, events, festivals and competitions, but if you just want to stick to vocal lessons that's more than OK. There are also opportunities to develop your songwriting and performance skills.
The reality
The last time I did singing lessons was in high school but I sing along to the radio in the car and am feeling pretty good. I join a class with Leila, Zoe, Dyte and James, who range in age from 10 to 13. We huddle around Christine at the piano and begin with vocal warm-ups, then each of us performs a solo up on stage with backing track and microphone. I can't help but feel I have underestimated my fellow classmates, who have beautiful voices with great projection. There are cartwheels, splits and even an original song thrown into the mix.
The pay-off
It may be a group lesson but everyone has a turn workshopping their songs with Christine. A verse into my solo, Christine stops me with some great advice. When I start from the top, I can already hear the difference.
The pain factor
I die a little inside hearing my own nerves as I sing my solo. But luckily it is a friendly environment and the girls are quick to reassure me I have a pretty voice.
Who should try it?
Anyone and everyone. Christine has experience with all ages, from three to 70, and all levels from beginners to professionals.
The bill
Private lessons start from $35 and group lessons start from $25, with upfront term payment.
Would I do it again?
Most definitely. It's a lot of fun and there are so many areas where I could improve.
CK Singing School
3a Feathertop Avenue, Lower Templestowe. 0411 756 628